We are proud as a church to have started Scotland's first dedicated child bereavement charity, Richmond's Hope.
The charity provides support for children and young people aged 4-18 who have been bereaved.  We work across Edinburgh, the Lothians and the city of Glasgow.
The charity has its roots in our community of Niddrie, in south-east Edinburgh. It was there, in 1997, that Revd. Liz Henderson came to be minister of our church. Within her first 18 months of ministry, she conducted the funerals of 16 young adults in the community, who died leaving 34 children bereaved of a father, mother or sibling.
She and Jessie Douglas, a bereaved parent, became acutely aware of the impact that grief was having on these families. Plans were made, and in 2003, Richmond's Hope was opened. 
The charity provides a safe space for children to work through their grief both verbally and non-verbally, to preserve memories of the person who has died, to explore their feelings and understand the impact the bereavement has on their lives. 
Richmond's Hope has now grown and works from bases in Glasgow (Ibrox Parish Church), Midlothian (St John's and King's Park Church) and Carricknowe Parish Church in Edinburgh.  Its main base is still within Richmond Craigmillar Church and it enjoys the continuing support of the congregation and community.  The charity works with people of all faiths and none, in a way that respects and supports their beliefs about life and death.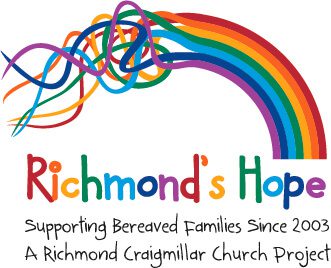 227 Niddrie Mains Road
Edinburgh
EH16 4PA